Bondage Boutique Extreme Leather Slapper Whip
The Bondage Boutique Extreme Leather Slapper Whip, is a split prong paddle, designed to offer intense impact to the receiver. Made from leather, the device has a double leather thickness handle, and a single layer impact area which has been divvied into two fronds (so you get double the whack in one). When this item is used gently, even with light strokes comes stinging intensity.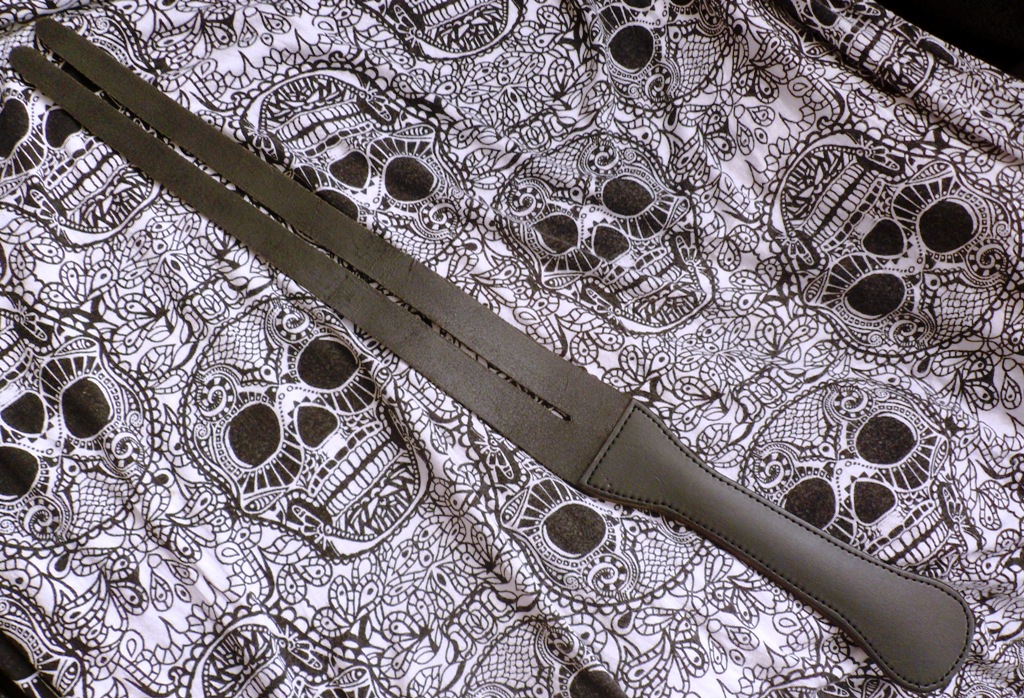 The item arrives in a clear plastic bag with a Bondage Boutiques label attached to it. The spankers handle is 8 inches in length and shaped to rest within the contours of the hand. The impact surface of the device is 14 inches long and split into two down its centre. The ends of the fronds are rounded, so they should be less intense than angled finishes. The main area of the spanker is highly flexible due to being made from a single piece of leather. The edges of the spanker are roughly finishes, although for the price, this is expected. The double layered handle is well stitches and unlikely to come apart.
As someone who loves her intense hitty and whacky implements, my first hit upon my submissives buttocks really left a mark (both mentally and physically). The split leather strap swooped through the air and snapped as it hit the skin echoing around the room. Whilst the item is lightweight it was still easy to control due to its handle, meaning that I was able to offer precision hits and only occasionally experiencing some whip rounds (mostly caused by my submissives flinching). During intense sessions, the spankers fronds sometimes pinched together upon impact.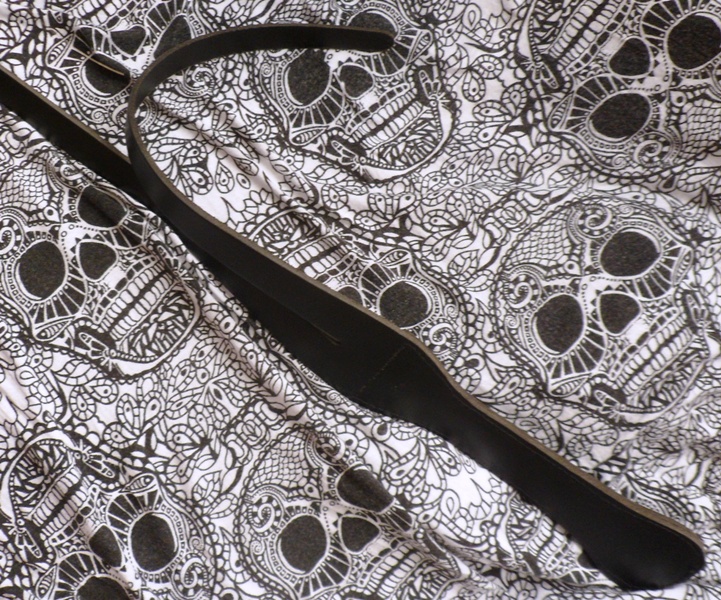 When using the item with lighter strikes, the paddle still offered intense stings that throbbed away. When using in a slower motion, the two prongs were more likely to separate further apart, giving sensations over a wider impact area.
Believe it or not, the handle is a decent size to gasp and use as a spanker itself. Providing a less intense impact, that works well as a warm-up.
To clean the item, simply wipe down with a lightly damp cloth and allow to dry.
Overall, the Extreme Leather Slapper Whip by Bondage Boutiques, is a nice stingy impact device. However, I feel its name is slightly miss leading, as it's really nothing like a traditional whip, and more just like a leather spanking strap with a difference. If you're looking for an impact device that'll offer extreme stinging sensations with a flick of a wrist, then this is one to consider.
Thank you to Lovehoney for sending me this item for me review. You can find out more about the product here.
Post contains affliate links.