The past year has been amazing for sex toys. There have been lots of new items on the market, and it's good to see more companies producing products which are made from body-friendly materials. I've tested some fabulous sex toys this year, and have had the opportunity to test some prototypes as well as trying out current releases. In 2012 I had my first experience  using a sex machine, and also with wooden sex toys, silicone double penetrators, and electro stimulation. It's been a busy year, and I predict that this new year will be filled with more new innovative sex toys, as well as newer versions of old classics.
Below I have compiled a list of some of the most memorable sex toys I've tried in 2012 (in no particular order):
The Eroscillator 2: I was a bit dubious about spending so much on this product at first; it looks more like some form of steampunk toothbrush than a pleasure device. But after weighing the pros and cons, I decided to give it a try; after all, it's basically five toys in one with all the attachments provided. The Eroscillator is memorable for me because it's the first external vibrator which caused me to experience female ejaculation, not only without insertable G-spot play, but also within a record time of under 5 minutes – it's quick and reliable. There is a con to this product, and that is that it can become addictive to use, which although at the time leads to amazing multiple orgasms, can lead to a very sore clitoris afterwards. This product isn't for marathon masturbation sessions, as its high power output pushes lubrication away from the targeted area rapidly. I'm still yet to review this, and promise I will in 2013.
The Lelo Smart Wand Large: After trying the medium version of the smart wand in a store, I was left a little disappointed. Sure I hadn't tested the product to its full extent, but its power was negligible compared to my Hitachi and Body Wand. However, when I received the Lelo Smart Wand Large, it easily surpassed the Hitachi Magic Wand. This product is powerful. It induces coma-like climaxes, even without having the ability to offer pinpoint clitoral stimulation or insertablity. The deep rumbling vibrations even travel through clothing, and I love how the product is suitable for aquatic use.
"Other than the charging port being open, my main problem when using it in the bath is how the strength of the orgasms it induces make my legs buck and head rock; I'd advise using a bath pillow or rolled-up towel behind your head for comfort, and as a way to avoid potential concussion."
The review for the Lelo Smart Wand Large can be found here.
Tantus Tsunami: I've had a lack of Tantus products this year, but I am pleased to have tried the Tantus Tsunami. The wave-like textures offered generous stimulation to all my sweet spots.
"It also offered pleasurable pressure upon my urethral opening, which echoed towards my G-spot, intensifying my G-spot's sensitivity as the initial two waves surged over it. The shaft bounced off my G-spot in a forceful rhythm, quickly generating a climax of immense magnitude."
Unlike some textured sex toys, I was able to feel each individual wave, as well as still enjoy the tips pressure upon my G-spot. In the past I've tried a lot of textured G-spot toys, yet often found that I'd only be able to feel either the product massaging my G-spot, or the textures offering stimulation. It's very rare for a product to be able to make me aware of both simultaneously.
Read more about the Tsunami here.
G-Spot Happy Rabbit: This happened to be my first rechargeable rabbit vibrator, and even since testing other rechargeable rabbits, this is still my favourite. The G-spot Happy Rabbit by Lovehoney has one of the most amazing G-spot shafts I've experienced. Whilst the G-spot tip is in position, the ears reached my clitoris without any problem. The base was easy to grip, and I loved how simple it was to rest upright on my bedside table whilst not in use. There are a few small changes that would've made this rabbit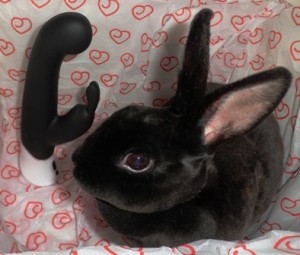 perfect for me, such as waterproofing, the inclusion of a travel lock, and having some form of coating over the controls to prevent dirt getting trapped between the gaps. I learnt that taking my Happy Rabbit to the beach with me probably wasn't the best of ideas, as on the way there it buzzed on and off, and once on location it got a little bit of sand trapped in the gaps around its buttons.
"I enjoyed the extra stimulation as the long ears tantalisingly swished over my nerve endings. Depending on my mood and the vibration settings selected, the rabbit can cause me to orgasm fairly quickly by just resting it in position"
Find my review here.
Lelo Mona 2: The Mona 2's sensually contoured curves made this product not only perfect for G-spot stimulation, but also great for clitoral play. The Mona is probably one of the simplest vibrators to use when positioning its tip upon my clitoris. The curved body also slips comfortably inside my vagina and finds my G-spot without any problem. On top of that, the Mona 2 is powerful and practically silent. Once positioned (externally or internally), it doesn't take long to bring on a strong climax. It's currently my go-to vibrator, particularly if I'm uncertain as to whether or not I want a little G-spot play or clitoral stimulation.
"The Mona 2 works well at offering pinpoint stimulation to the clitoris, and its intense rumbly power induces clitoral orgasm rapidly. When used as a direct clitoral stimulator, the length of the product and easy to grip handle made foreplay effortless…. The toy's shape, once inserted, meant that although I preferred using motions during masturbation, I was able to just leave the Mona 2 inserted and stationary; it stayed in position with the crest lodged flush against my G-spot. I was able to leave the product inserted and let the vibrations do all the work for me, without fear of the shaft slipping away inconveniently."
You can find my review here.
We-Vibe Tango: Although I haven't gotten around to reviewing this product yet, it has to be one of my favourite bullets. The Tango is a rechargeable bullet vibrator, offering powerful rumbly vibrations. It is also waterproof. It's the perfect size to place into the chamber of certain dildos, replacing the traditional and often weak battery powered bullets commonly supplied. The Tango's flat lipstick tip works perfectly for clitoral stimulation, however its immense power for its size can make it troublesome to hold, meaning that generally I will opt for the We-Vibe Touch during play due to its ergonomic grip and dampening silicone outer layer. I'm just happy to have a powerful bullet strong enough for use with my dildos, as it emits vibrations through silicone much  better than the ones supplied.
Read my review for the We-Vibe Touch here.
Laid D.1 Silicone: Already owning the Laid D.1 stone dildo, I knew roughly what to expect from this product, as its shape is an almost exact replica. The Laid D.1 has to be one of my favourite G-spot dildos, however sometimes the stone version would  feel too heavy handed and lead to a bruised cervix during overenthusiastic play. The silicone version of the product still had the perfect asymmetrical tip and wide surface area for G-spot massage which I loved about the stone version, but its lighter and slightly plushy body meant I was able to enjoy the product more passionately, and also allow myself to get carried away when aiming for multiple orgasms without fear of bruising my cervix.
"The slight flexibility of the silicone shaft allows the head of the product to bounce off my G-spot rhythmically, without fear of internal bruising. Just thrusting with this toy always leads to a euphoric experience…. On occasion, although I really like the stone version, I have used it too boisterously and ended up bruising my cervix."
Check my review here.
Crystal Delights Mini Twist Plug: This plug offered a new dimension to anal play. Its smooth twisted glass body led to heightened stimulation as it entwined with my body, on par with the sensations produced when using anal beads. The product twists into
position nicely, and stays comfortably inserted during prolonged use. Its twisted shaft can be felt through the back wall of my vagina, offering pressure upon a penis during intercourse. Not only is it a fabulous plug, it is also beautiful to look at, as its base is adorned with
"My pelvic floor muscles have more time to get to grips with each spiral, having closer contact with the toy. This meant that more nerve endings were stimulated as my body became perfectly entwined with the toy"
Read the review here.
Marc Dorcel Geisha Ball Silicone Butt Plug: For a long time I had wanted to experience the sensation of kegel balls anally, but as vaginal kegel balls don't have a flared base I was left waiting for a suitable product to come onto the market. Finally Marc Dorcel has manufactured a butt plug with the same free-roaming ball feature found in kegel balls. The product is easy to insert and offers soft natural vibrations as you move around. The rattling internal ball also made the product feel more filling when worn, compared to wearing a solid product of similar size.
"During wear, even in stationary positions the internal ball rattled noticeably and produced pleasurable stimulation…. Although the plug is fairly small, the internal ball made it feel filling and satisfying, which I would normally only experience with larger anal products."
Read my review here.
Nexus Revo: After my partner had tried similar prostate products, he was almost put off using anal toys completely, until he tried the Nexus Revo. The Revo was easy to insert after apply lubrication and fitted my partner perfectly. He found the combination of the rotating shaft and vibrations to work wonderfully together, and with its flared base he was able to sit their comfortably as the product simultaneously stimulated his prostate and premium. The product has produced one of the most pleasurable prostate orgasms he has experienced. It is one of those toys which makes a frequent appearance during mutual and solo masturbation sessions.
Tenga 3D Zen: This year we tried many new male masturbators together. We were lucky enough to receive the Zen from the Tenga 3D range and it's one of my partner's favourites. Apparently the texture is amazing. Although I personally can't comment on how pleasurable these are, I have to say that they are lovely to look at, and the material feels divine to touch. I enjoyed how the product was easy to hold whilst using in during couples play – I often have trouble handling larger male masturbators due to my small hands.
Ego 3: The Ego 3 from Jopen. This cock ring is powerful, and not only is it powerful, its vibrating protrusion is large enough to reach and stimulate the clitoris during coitus. The clamshell shape can also rest against the scrotum during play if desired. The product offers intense vibrations, that even my tester found very strong, leading to a fast climax for both when used during couples play. Another bonus about this product is that it's waterproof as well as rechargeable.
Velv'Or Njaja: This cock ring frames the scrotum and penis shaft beautifully. After testing out a few of these cock rings with various lovers, I'm happy to report that it's one of the best fitting scrotum and shaft rings we have tried. My partners enjoyed how nicely the product rested against the body, as well as the protruding stem offering gentle pressure to the perineum, heightening arousal. The product is available in various sizes and was easy to apply onto my lover's sex without qualm.