Bare Bondage Wrist Cuffs by nsnovelties
Sex Toy Review of the Bare Bondage Wrist Cuffs by nsnovelties written by Ness
The Bare Bondage Wrist Cuffs by nsnovelties are a pair of handcuffs made from clear vinyl material. These transparent cuffs are an option for those looking to use bondage gear that isn't made from leather. The clear plastic may also be an option for those who prefer to see more flesh, but also wish to use solid restraints – wider leather cuffs can look bulky and cover large amount of skin, however these offer an option where they are wider meaning it's harder to break free from them yet still allowing the wearer and Domme to see more flesh giving the illusion of thinner restraints but with more restriction.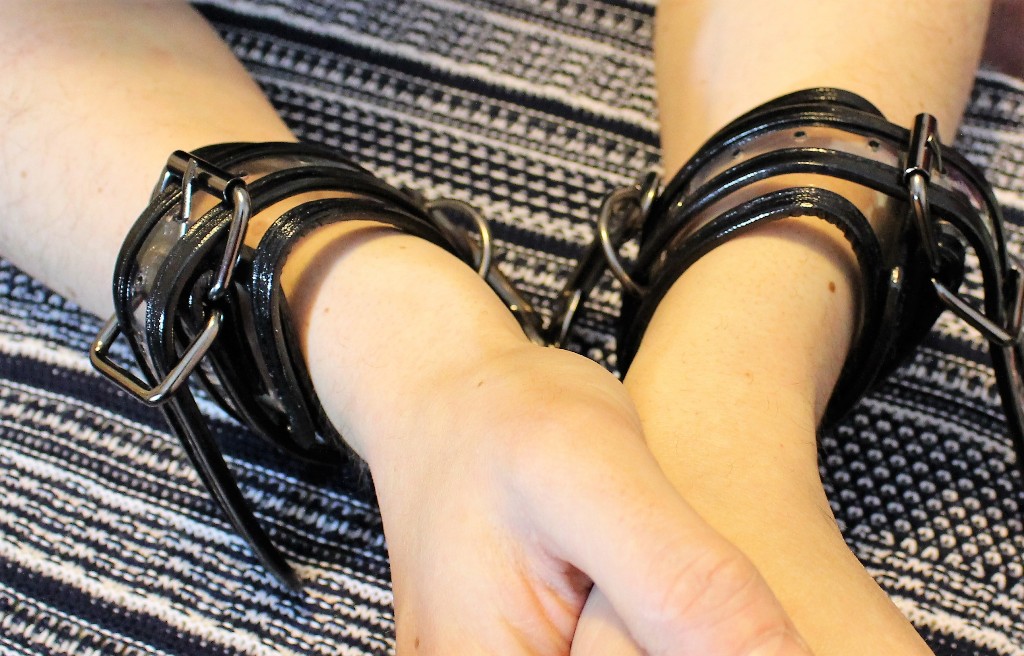 The handcuffs arrive in a cardboard box with images of the cuffs being worn. Inside the cuffs are folded, and each cuff has a removable double clip secured onto it. The cuffs have buckles on them for securing them around a lov-e-r-s or subs wrists. All metal fixtures are nickel free. The main part of the cuffs is made from a wide piece of vinyl measuring a total of 2 inches in width with 14 inches of length to go around the wrists. Fixed onto the top of this strap is another strap which is thinner and longer, one side has the buckle fitted onto it and the other has the punchered holes where you can set the handcuff size. The cuffs fit wrists from 6 inches in circumference up to 10 inches. They can easily fit around small wrists, as well as larger ones, and I've even managed to secure them around medium sized ankles. The clear vinyl has black PVC boarding around each strap. When removing the box they seem to retain a square-like shape, although this is slowly being work-out and the plastic straps mould around my subs body as it becomes more flexible when in contact with body heat.  As the cuffs come with two clips you can adjust the distance between them from either 3 inches in length up to 6 inches. Because you can separate the cuffs, you can use the clips to hook them up to other BDSM equipment if you want such as under-bed restraints.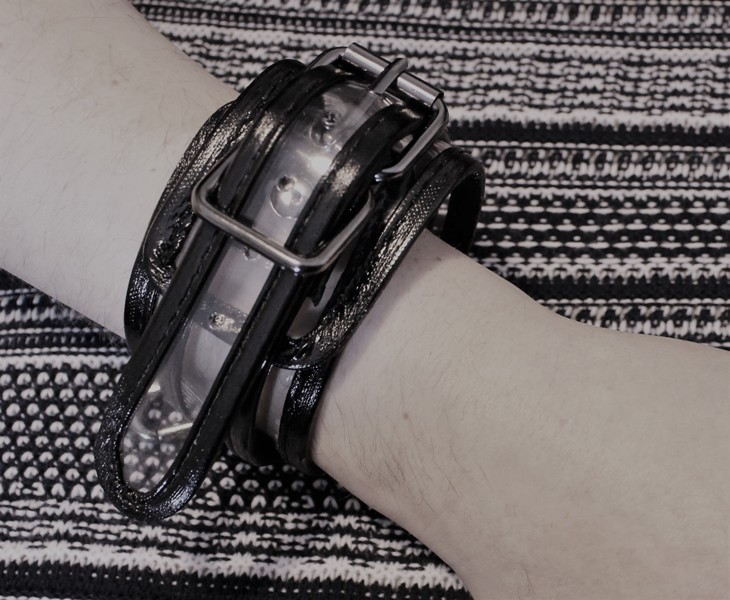 The cuffs are very strong and I don't see them breaking easily even in extreme play situations. The width of the strap means that they are hard to wriggle out of (so far yet to find a sub who can slip these off). And the large range of adjustable holes to thread the buckle through means I am able to put these around my submissives wrists comfortably yet still keeping them in their place.
My submissive found the handcuffs very comfortable. I strapped them around his wrists and then hooked them up to an over-the-door restraint system with his hands raised above his head. He was able to comfortably rest his wrists in them even with his body weight and gravity pulling his arms downwards, they did not cut into him nor did they slip off.
When cleaning the cuffs you will want to avoid any cleaner with alcohol in it as his can damage the plastics used. Simply use antibacterial soap and water, or even baby wipes to wipe them clean. You may find that dirt can get trapped between where the PVC trimming and the vinyl has been joined.
Overall, I rather like these handcuffs, they are very versatile. I like how they can fit very small wrists and up to medium sized ankles. I personally enjoy their appearance and think they are better constructed than many plastic BDSM bondage items which are currently on the market and even appear and function better than some leather restraints found at a similar price.
Thank you to Bondage Bunnies for sending me these handcuffs to review. You can find-out more here.