Sex Toy Review of the Bang Bang Penis Pump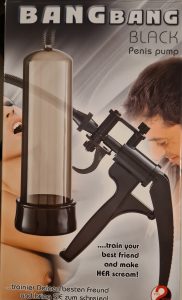 The Bang Bang Black Penis Pump manufactured by You2Toys is a lever-action pump that helps promote blood flow and erection to the penis. The pump is different from the more common bulb pumps and may be better suited for those who struggle pumping penis pumps with a bulb.
The Penis Pump is made from tinted clear plastic, with a PVC seal at the base. At the top of the pump, there is a rubber tube leading to a lever pump made from hard plastic. The lever scissor pump requires rather large hands, and when using it on my male submissive I found it a little tricky as more pressure built up in the main chamber. There is a quick-release trigger on the pump, but it is a bit far away to use easily if your hand is gripping the main lever at the time. The maximum insertable length is up to 8 inches. The PVC base is flexible, although I found even using it on an average penis, it got rather tight pretty quickly. I wouldn't recommend this pump to anyone who deems themselves as well-endowed.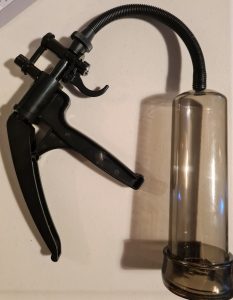 When using the penis pump, I recommend that you apply a ring of water-based lubricant around the PVC base. Start pumping slowly and build up gradually. It's recommended that you take breaks from pumping and don't overuse it when you are starting to adapt to the sensations. Whilst it is recommended to shave before using a penis pump, the entry hole is rather small for this particular pump, and some may find that it will create a seal around the shaft of the penis rather than pubis (depending on users' size).
Currently, the only individual I have to hand with a penis is a submissive.
I started using the pump slowly, and when using penis pumps in BDSM play I enjoy adding them to edging and orgasm denial. My submissive enjoyed the slow teasing of forcing blood into their penis, and then a sudden release of the valve taking them back to a more flaccid penis, and then teasingly pumping back to a full erection.
We haven't explored using this particular pump to increase my submissives penis size, as the base entry hole is rather small and gets pretty tight. This pump is mostly used during a tease and denial session.
Cleaning the pump, it's best to remove the tube from the main chamber to keep it from getting wet. When cleaning the main chamber, you can remove the PVC base and wash both in warm water with your standard antibacterial soap. Make sure everything is dry before putting back together.
The scissor lever is a style I personally prefer to use over the bulb pumps; however, the Bang Bang pump is a little large for my hand. I feel this pump's sizes are all off in places in general, and it could do with a bigger entry hole, smaller, handle, closer release trigger, and longer tub.
Overall, this pump is just an ok penis pump. It's not really anything special and maybe best kept to sensation play rather than purchasing for erectile dysfunction or for the aim of encouraging a larger penis.
Thank you to Love Naughty for sending me this penis pump to review.