Ann Summers Rampant Rabbit The Metal One
Sex Toy Review of the Ann Summers Rampant Rabbit The Metal One written by Ness
The Ann Summers Rampant Rabbit The Metal One, is a battery powered dual stimulator, made from a combination of body safe silicone and metal. The ergonomic shaft is made from aluminum metal, offers new sensations when compared to the traditional rabbit, by offering a chance to explore temperature play via cooling and heating the metal section. While there have been many metal products on the market before, this one is unique as it also has the addition of a clitoral stimulator. I was very interested to see how well this particular metal product worked for my body, in the past I have had great success with metal toys, often resulting in G-spot orgasm vaginally, and more pleasurable anal play anally. So, as you can tell, I had high hopes for this one.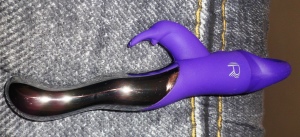 The rabbit arrived in a presentation bow which opened at the front to reveal the product within. The sex toy is found resting within a plastic tray, with a plastic overlay protecting it. Printed on the packaging you will find further product information, with the addition of an instructional booklet found within. Sadly this product, whilst deemed as a luxury item, does not come with its own storage pouch or batteries.
The device is a total of 8.5 inches in length with a 4.5 inch long insertable metal shaft. The shaft is slender and is a wave-like shape, with a curved rounded tip, for more pinpoint stimulation to the erogenous zones. The clitoral stimulator is made of silicone and is shaped like a rabbit, and can be flexed closer to the shaft or further away, if desired. Below the rabbit portion you will find a single button, designed to switch the device on / off and scan through the 3 vibration speed and 7 pre programmed patterns. Below the control button is a circular handle, which also acts as a batter cap. To insert the batteries simply twist this away from the main body and pop two AAA batteries inside. The handle personally feels a little bit useless, as the main shaft is so weighty, that the flexibility of the handle makes controlling motions of the item hard – a more solid handle would've been a better option.
The metal doesn't seem like aluminum. I first became skeptical when I held the device within my hand, and the shafts temperature changed differently to other aluminum toys I have. The metal also felt too glossy, almost as if it had been chrome coated. After awhile I thought I'd test this theory and scratched away the outer coat on the metal and found a copper-like colour underneath it. If this item was anodized aluminum there wouldn't have been a copper-like coat found under the glossy surface. To give you an idea of an anodized aluminum product, just take a look and feel at an iPod, which is made from dyed anodized aluminum.
*After talking with a company that focuses on making aluminum products, they too feel that the metal isn't 100% aluminum. They think it's possible that the product is copper dipped aluminum that has then been chrome plated. *
During use the shaft was easy to insert vaginally after very little warm-up. Normally aluminum products would warm to my body's temperature quickly, and offer a warm satisfying feel again my vaginal wall; however this device took a lot longer and still felt colder than the other items I had tried. The shape didn't offer the type of stimulation I desired upon my G-spot, with heavy metal I generally want to take advantage of its weight and rigidity to induce an intense G-spot climax, yet the thin wavy shaft wasn't able to do this. The silicone rabbit's ears rested perfectly above my clitoris, unlike some rabbits, which are way off target. Whilst exploring the vibrations, sadly the rabbit ears were uncomfortably pointy and sharp and took all the pleasure away from the dual stimulation experience. The vibrations whilst strong didn't travel well up the metal shaft at all. I believe if the rabbit clitoral stimulator was a better shape, then the vibrations would've lead to an intense and enjoy climax easily.
When cleaning the rabbit, make sure you pay extra attention to where the silicone and metal shaft joins, ass dirt can reside here. As the item is waterproof, simply submerge in warm water and wash with your standard antibacterial wash.
Overall, this rabbit isn't for me, and its shape is completely wrong for my body. Annoyingly the rabbit portion of the item is far too harsh on my clitoris that it's easier for me to dig out of my aluminum dildos and separate vibrators instead. I also know that I'd enjoy those particular aluminum toys more due to them responding exactly how the metal is meant to.
Thank you to Ann Summers who sent me this item for my review.