Toy Tuesday Round-up by Penny
It's been ages since we've had a Toy with me Tuesday Round-up. For this round-up, Penny has kindly put together a blog for us, selecting some of the top sex toy photos around right now.
"Balcony Butt Plugs" by Ruffled Sheets
I love this gorgeous image by Andy for a host of reasons. From a technical side, the composition is brilliant, from the pattern of purple and blue that is repeated in his ankle bracelets, to the shallow depth of field that focuses on the toys, to the gorgeous focus and color captured. I also love the story it conveys: relaxing on the balcony, choosing which plug to wear. To me it captures the positive, playful attitude towards sex and sex toys that Toy Tuesday celebrates.
"Untitled" by Venus O'Hara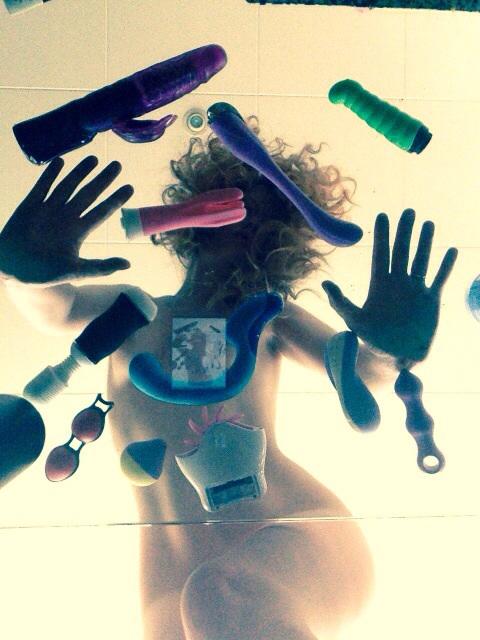 This brilliant image from Venus O'Hara doesn't have a title, and I think it's one of those photos that speaks for itself. The way Venus has placed the toys around herself, strategically hiding her breasts and eyes, gives the image a mysterious feel, and the technique she used, shooting the image through glass, her hands pressed against it, makes it seem like she's in a sort of Wonderland of pleasure and toys.
I am always impressed by the way the Lovehoney team captures images that weave sex toys into familiar settings, and this shot is one of my favorites. At first glance, it doesn't look like a sex toy photo at all, but any kinky viewer knows it is. The attention to detail, how they actually used the clamps to knit, along with the contrast between the soft background and unforgiving metal, creates a beautiful, clever image.
"Sweet Death" by Property of Potter

The way Potter set up this shot, with the candle lighting up the doll's face, makes the doll look like it's almost alive, and the way it's lying amidst rose petals, its dildo body jutting up, suggests the doll is waiting, perhaps nervously, to be used by its owner. The image and toy itself are both eerily beautiful.
As a long time Hitachi lover, I can so identify with this image by Buzz Buzz Baby. Losing one of your favorite toys can be distressing…I shudder to think of the day my beloved Hitachi dies, and I would probably have a similar ceremony. I love the gravestone they set up, the flowers on the "deceased," and the words she included in the post. RIP Hitachi.
About Penny: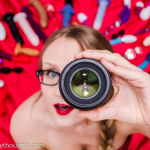 Penny is a writer, photographer, and blogger. Her blog Penny for Your (Dirty) Thoughts is a mix of  sex toy reviews, sexuality opinion pieces, sensual self-portraiture, fancy sex toy photography, erotic tales, and more! Penny's blog is ranked highly on lists like the Top Sex Bloggers of 2013, her writing has appeared on sites like Fleshbot.com, and she's known in the sex toy world as a photography guru.
Related posts: