Lockable Butt Plug the Anal Master
Sex Toy Review of the Lockable Butt Plug the Anal Master written by Ness
The MEO Anal Master is an expandable lockable butt plug, so basically this particular sex toy can be used to create a form of anal chastity. Many may find this an extreme device; however, I personally have found them fascinating and am very pleased to finally have one in my collection.
Not only does the lockable factor bring in various forms of control play over a session with a submissive, you also are able to manipulate the width of the plug via a key, stretching a submissives rectum to its fullest. Due to its ability to be widened once interested you may think this is a device only for anal queens, but this isn't true, as I've found that the device is ok for those who can't usually use very large anal toys as generally for them it's inserting a large butt plug that is the most difficult part, with this plug you insert it at its smallest and then expand it gradually. It's actually a pretty cool BDSM item and it's a lot easier to use than I had expected, and apparently more comfortable and pleasurable than my submissives had thought it would be compared to when first seeing the device.
It arrives in a zipped case which is very discreet and keeps everything safe in one place. Inside the case, you will find the butt plug, a padlock with two keys, two heavy duty condoms, a key specifically designed for the Anal Master, and a pin for locking it to a set width. The Anal Master is made from aluminium. It's a very heavy plug weight 457 grams. Insertable length is 4.25 inches in length and has a rubber band at the bottom of the insertable portion. It comprises of three petal-like prongs that when together are 5 inches in circumference and an impressive 9.5 inches in width when fully spread. To widen the device simply use the provided key and twist it around until it is as comfortable or uncomfortable as you or your submissive desires. As it untwists the centre of the plug will slowly shorten in length and retract downwards.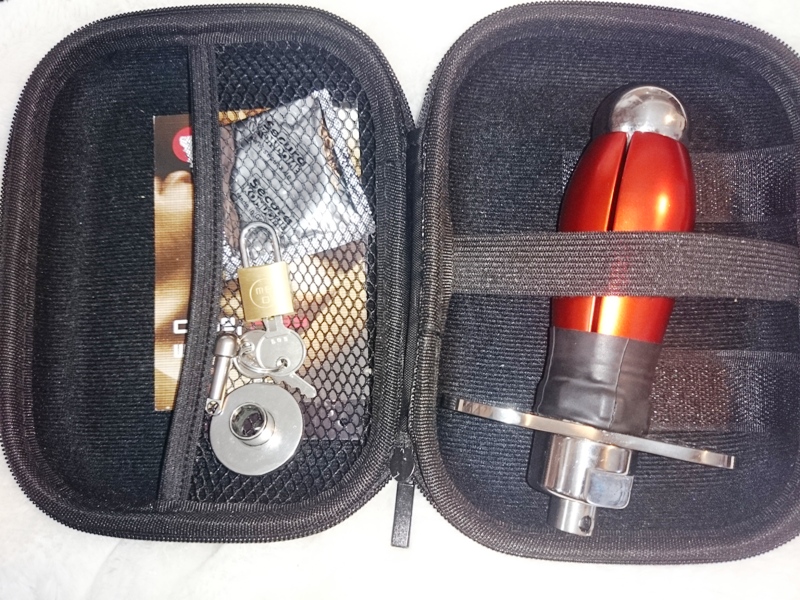 Lying on the massage table with his knees hitched up to his buttock, my submissive waited for me to make my first move. I applied a dollop of lubricant to my gloved fingertips and slowly worked it into and around my subs anus. Thrusting my fingers in and out and occasionally altering the sensations by curving them onto his prostate, gradually worked up until 3 of my digits were inside his body. Grabbing the Anal Master I rolled a condom over its tip and then slipped the device inside my submissive and started working it as if it was a metal dildo. It slipped in and out comfortably and pleasurably. He became relaxed and ready for the next stage. I twisted the key slowly round, asking my sub for feedback, but he still wasn't able to feel the plug stretch him inside. I sped up the process and then suddenly my sub was able to feel the butt plugs petals stretch and gape his rectum. Gently tugging the plug I found it was in place and secure. I locked the devices – there was no way of removing it from his body now. I commanded my sub to get off the bench and walk around with the plug inserted, as he did so I livened it up by making him do catwalk poses. Even in these entertaining and amusing positions the plug remained comfortable. Over time it became more and more noticeable that he was wearing the Anal Master as its weight drew downwards, however, even though it is an incredibly heavy plug it still did not fall out. The metal base nestled neatly between his buttocks and only poked out a little bit – no one would suspect you wearing this plug if you were wearing baggy trousers. I allowed my sub to have a break and sit down; as he sat the plug was pushed up a little bit. If you're planning to wear this device over a long period you may want to make sure you don't have to sit down too often as whilst it is possible my sub reports it can get uncomfortable.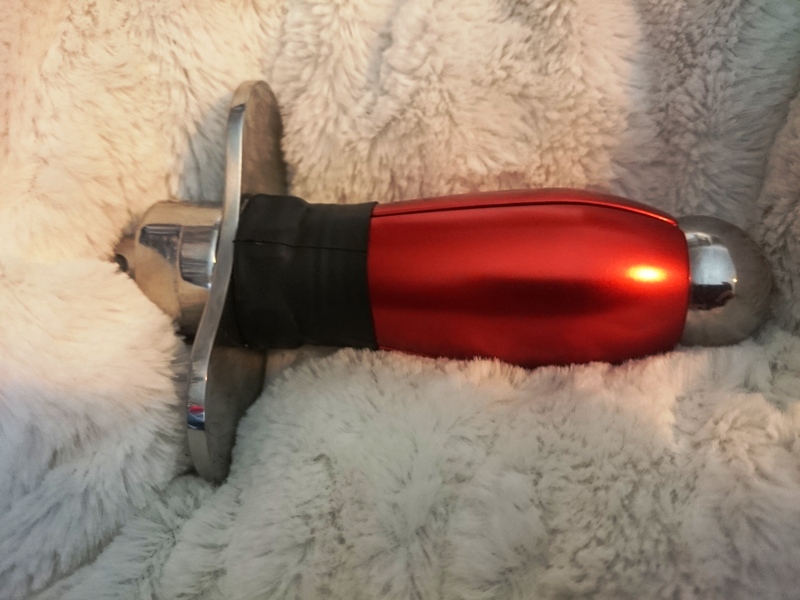 Eventually, it was home time for my test subject and we had to remove the plug. I used the key to slowly make the device smaller and smaller, and as the plug shrank my submissive could feel the pressure inside his body change. We had partly expected that the sex toy would pinch as it closed, but this was not the case. From start to finish, this anal toy was surprisingly gentle. Once fully closed the plug slipped nicely out. The condom had stayed in tack meaning that clean-up was very easy.
My submissive only wore this plug for a few hours and has stated that he feels that he would need to build-up slowly to wear it all day. He's not very use to the sensations it produces yet, particularly as it makes him feel as if he is performing a bowl movement, although I know for some subs this is the sensation they seek.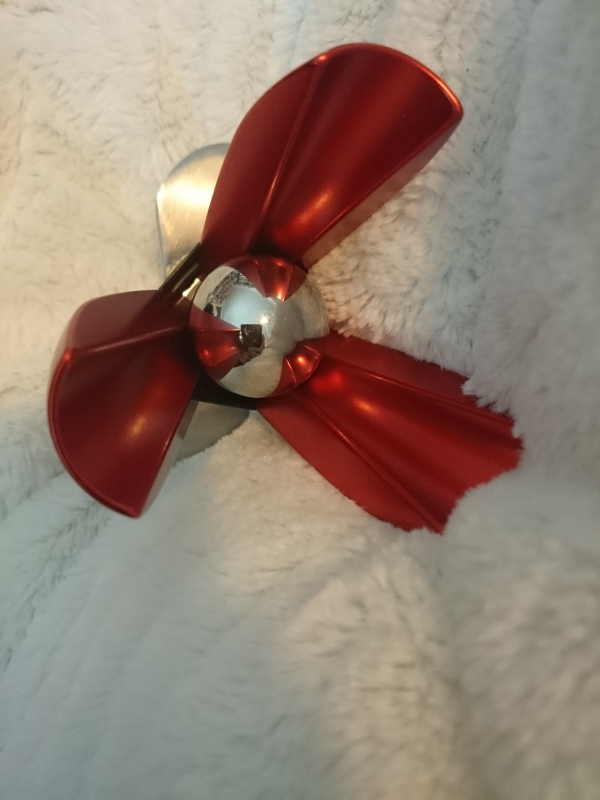 Due to the butt plug opening up there are loads of areas dirt can reside. I highly recommend you only use this sex toy with extra strong condoms as you can't guarantee you'll be able to clean it 100% otherwise.
Overall, the Anal Master is a very fun device and I'm actually very impressed with how easy it is to use and comfortable it can feel. It's defiantly a butt plug I will be using regularly on submissives during sessions.
Thank you to MEO for sending me this item for my review. you can find out more here.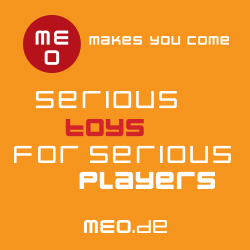 Related posts: