Fun Factory Patchy Paul G5
The Patchy Paul G5 is a rechargeable silicone G-spot vibrator with a ribbed shaft and curved tip, made by Fun Factory. Fun Factory have been making the Patchy Paul vibrator for years, yet, this is the first time I have been able to try one. In the past Patchy Paul models have been battery powered, and whilst these are still on the market, I really suggest if you are considering any of the Fun Factory vibes to opt for the rechargeable versions – I've tried some of their other battery model toys and yet the rechargeable seriously trumps the battery variations.
The vibrator is 23 cm long with an insertable shaft of 16.5 cm, It has a ribbed shaft which gradually narrows until it reaches the products tip which curves to form a prominent G-spot curve. The device has a maximum circumference of 13.5 cm. The curved tip resembles a smiling worm (it actually reminds me of the worm from the Mr Men books). The insertable shaft is made from silicone. The silicone can cause some drag against the skin when used without water based lubrication.  At the base of the toy you will find the control panel and a handle. The handle is made of glossy ABS plastic and has three buttons at the front. At the very bottom there are two magnetic contact points for the magnetic USB charger to connect to. To turn the toy on and off simply press the and hold the 'Fun' button, and use the '+' and '- ' buttons to select the vibration mode you desire the most. The toy has the option of six vibration intensities and six different vibration patterns to choose from. The vibrations the silicone shaft produce are very intense and travel throughout the shaft smoothly.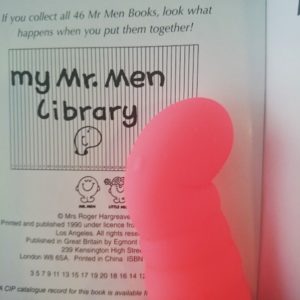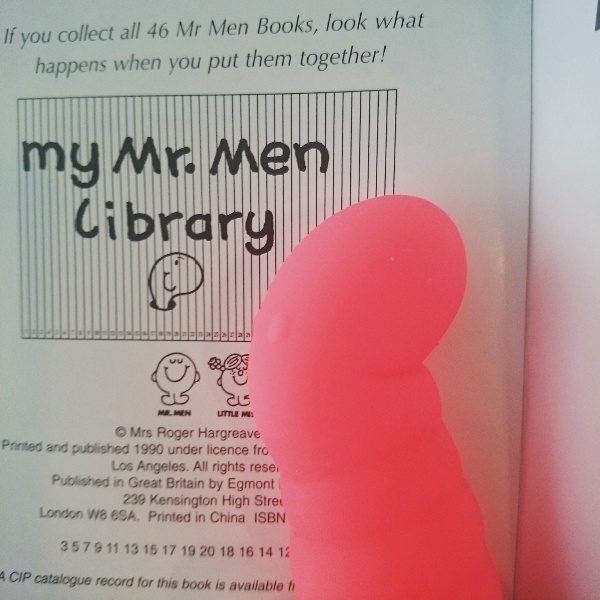 The Patchy Pauls shaft is renowned for its flexibility yet with the ability to still be easy to control, unlike some sex toys which flexibility means its shaft completely loses control during use and becomes overly floppy. I am pleased to report that whilst the shaft can bend, that during use I was able to still direct its curved tip to my G-spot and manually stimulate it with controlled precise pressure and rhythmic thrusts. This was particularly helpful after breaking my back, as my own flexibility had diminished, and I have to say that the Patchy Paul was the first toy I could comfortably use on my G-spot which also led to orgasm, during this time. I feel that its bendy shaft was the main reason for this, as many toys lacked the flexibility I needed for comfortable insertion (even insertion at all), and it meant that I could once more masturbate by myself rather than just relying on a partner for help. Over time I have worked on my back and got it pretty much back to health, and yet, I still love this toy. Even though I'm able to insert it easier, masturbate with it in different positions, and more; its tip just seems to be an excellent shape for G-spot orgasms. As the bent tip can bounce back and fore forth rhythmically during manual use, it can lead to lead female ejaculation – and that's without the vibrations.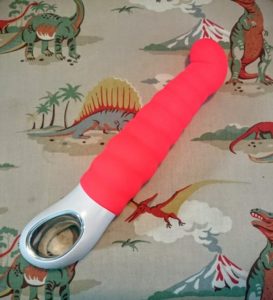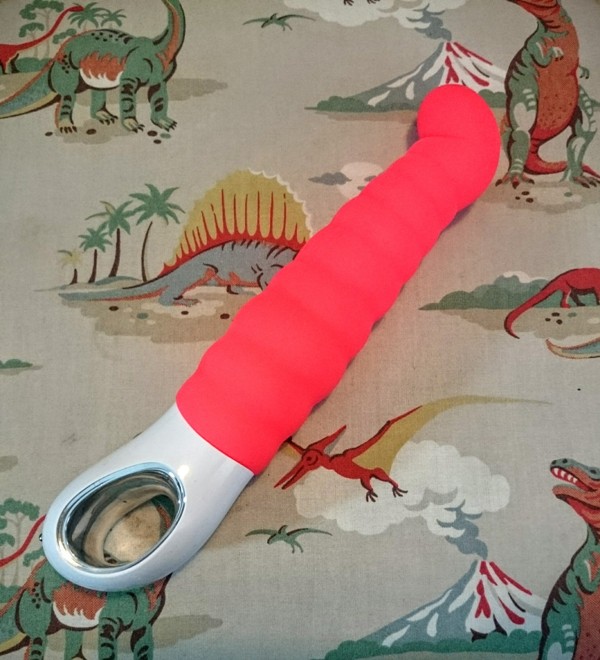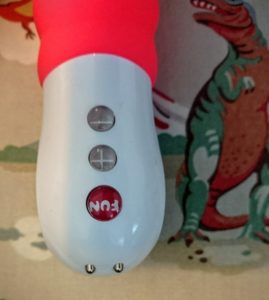 When using the toy I always apply an ample amount of water based lubrication as the silicone can drag on dry skin. Once I have warmed my body up with foreplay, the Patchy Pauls heads easily pops into my vaginal opening. The shaft easily follows behind the head, and I am able to feel the expanding ripples as it works its way into my body. The tip can reach the A-spot and stimulate it slightly; however, for A-spot play I prefer thinner and firmer sex toys. The best part of this sex toy for me is when its tip hooks towards my anterior vaginal wall and rests directly onto my G-spot. With the use of the handle I am then able to bounce it back and forth and quickly orgasm. This vibrator doesn't even need to vibrate for me to feel results. Heck, if Fun Factory made this sex toy into a dildo I'd be just as happy. However the vibrations settings are still brilliant and produce lovely rumbly and strong vibrations, which when I feel lazy and don't want to thrust the toy, I can simply lead it hooked against my G-spot and enjoy an effortless climax.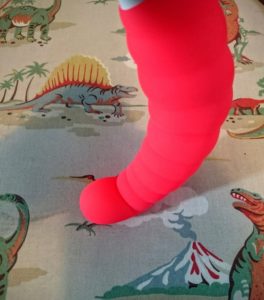 The Patchy Paul is 100% waterproof, which means it can be submerged during play and cleaning (however I find the silicone a little dry for aquatic use). When cleaning the product simply wash it in warm water and antibacterial wash, you may wish to play a little extra attention around the grooves rippling down the shaft, as well as under the toys 'chin'. Whilst it hasn't happened to mine, dirt could become trapped around the buttons as they aren't 100% smooth against the abs plastic handle. Once clean and dry simply plonk it back into its storage pouch ready for the next time you use it.
Overall, let's face it, I like Patchy Paul.  The G-spot curve on this toy is just right for my body. I also like how I've been able to use it during times when my health hasn't been the best. It's a product that makes orgasm more accessible. Fun Factory, I now see why you keep this design in your on growing collection.
Thank you to Fun Factory for sending me this toy to review. You can find out more here.
Related posts: